Beautiful teeth, following the example of nature
If it happens that you lose a tooth or it is really not possible for your dentist to keep one of your natural teeth, you will need a tooth replacement in Berlin. As the name suggests, this is all types of replacement of natural teeth.
Our team of experienced dentists is skilled in using innovative technology to recreate your natural teeth in the best possible way in terms of function and appearance. Our dental prosthesis specialists will be happy to advise you personally on which types of dental prosthesis are suitable for you medically, personally, but also financially. Together, we at CASA DENTALIS will find the best possible solution for your smile.
Possibilities of dental prosthesis
What are the types of dentures?
In general, we divide dentures at CASA DENTALIS, your dentist from Berlin, into three categories:
Fixed dentures
Removable dentures
Combined denture
Veneers from CASA DENTALIS are made of wafer-thin special ceramics, which are bonded with the aim to conceal aesthetic defects, applied by your dentist with adhesive in the anterior region.
The advantages of veneers: The very high quality veneers from CASA DENTALIS offer our patients numerous advantages, including: – Natural transparency of the ceramic material makes individual color matching possible – High biocompatibility, thus no health risks – Durability of 10 years
The procedure begins with the removal of a thin layer of enamel by your dentist. Then an impression is taken of the tooth so that a custom-fit veneer can be created by one of our Berlin dental technicians. Finally, the veneer is bonded to the tooth using a special adhesive.
Your dentists at CASA DENTALIS in Lichterfelde, Wilmersdorf and Steglitz-Zehlendorf offer you two types of veneers: Prep veneers and non-prep veneers. With the latter, the veneer can be bonded directly to the tooth – without prior removal of enamel.
Veneers are used at CASA DENTALIS in Berlin in the following cases, for:
slight tooth shape correction
slight tooth position correction
Broken corners
Accidental damage
Tooth gaps
Arrange your free consultation for veneers with us already now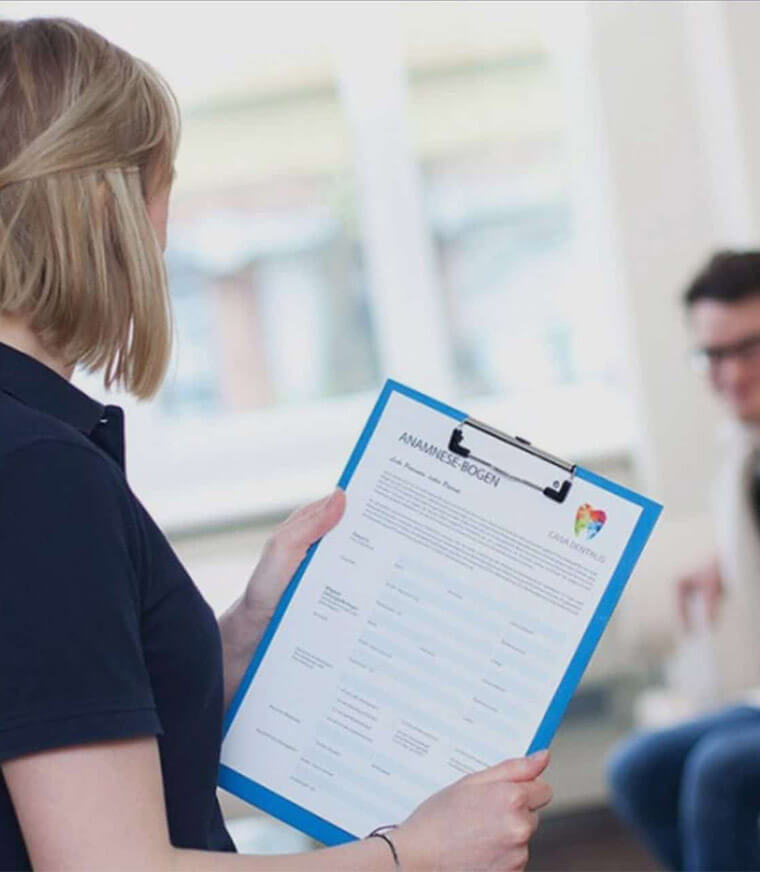 A dental crown is actually the part of the natural tooth that protrudes from the gum and is therefore visible. In colloquial usage, however, the term crown is most often used for the artificial replacement of this very natural tooth crown.
What are dental crowns?
In the non-visible range: metal alloys with a high gold or platinum content.
In the visible area: ceramic or all-ceramic veneers (for highly allergic patients).
Your local dentists at CASA DENTALIS will be happy to advise you on the type of material that can be used for your individual crown. Simply come to one of our locations in Lichterfelde, Wilmersdorf or Steglitz-Zehlendorf or contact us by phone.
Dental crowns are used by your CASA DENTALIS dentist as follows:
– To cover Implantaten
– to fix a bridge (linkage)
– to protect a tooth from breaking
– as a filling of a tooth with low tooth substance
A bridge is a dental prosthesis supported on teeth, tooth roots or dental implants. The term bridge comes from its function of bridging missing teeth.
Another important task of the bridge is to prevent adjacent teeth from shifting into the gap. In the dental offices of CASA DENTALIS in Berlin, we offer our patients the highest level of modern, quality dental crowns.
What are the advantages of a bridge?
Naturalness: A crown/bridge is perceived as a natural tooth both visually and functionally. The chewing and speaking function of your teeth is retained by a crown/bridge from CASA DENTALIS and no changes are visually apparent.
In order to complete an accurately fitting denture, an impression of the jaw must first be taken by your dentist. For this purpose, the teeth are carefully ground down in our dental practice beforehand. Based on this impression, the dental prosthesis laboratory of the CASA DENTALIS practices creates your crown/bridge. 
In the meantime, a temporary structure replaces the crown/bridge
, to protect the tooth. Finally, the finished crown/bridge is cemented onto the prepared teeth. In most cases, the preparation is performed at CASA DENTALIS under local anesthesia.
Although the crowns/bridges promise a long durability with good oral hygiene, it can happen that they become loose. For this reason, it is important to visit our specialists at CASA DENTALIS, your dentists for tooth replacement in Berlin, twice a year in Lichterfelde, Wilmersdorf or Steglitz-Zehlendorf, for a checkup and prophylaxis. Although the crowns/bridges promise a long durability with good oral hygiene, it can happen that they become loose. For this reason, it is important to visit our specialists at CASA DENTALIS, your dentists for tooth replacement in Berlin, twice a year. 
If it is no longer possible for your dentist from CASA DENTALIS in Berlin to attach a bridge or crown because, for example, there is not enough tooth substance left for an anchorage, so-called prostheses are used. Here at CASA DENTALIS we distinguish between a Partial prosthesis and a full prosthesis.
Partial denture or full denture? A partial denture is used when there are still a few natural teeth left, which can serve as anchorage for the denture, for example. Depending on the type of anchorage, there are different types of partial dentures. A full denture is used by your dentist when all the teeth in the denture need to be replaced.
Partial dentures
Interim prosthesis The plastic partial denture is attached to the teeth by your dentist using prefabricated retaining and support elements. This type of denture causes damage to the tooth bed in the longer term, as it is pressed into the gums by chewing. For this reason, your dentist at CASA DENTALIS uses this type of denture exclusively as a temporary, provisional denture. Model casting prosthesis The cast model denture is attached to the remaining teeth by clasps and is made of a non-precious metal alloy. It is very easy to insert and remove, but may be noticeable when laughing or talking (depending on which teeth the clasps are attached to).
What is a full denture?
A full denture consists of two parts: the replacement teeth, and a gum-colored acrylic base that encloses the edentulous jaw when worn. Due to various influences such as suction effects and the natural musculature, this adapts to the jaw and prevents the denture from falling out.
Many patients fear that the denture will be noticeable and visible. At CASA DENTALIS, our experienced dentists in Berlin work with the most modern technology in dentistry. As a result, we have many options available to us in Berlin to faithfully reproduce your dentures as well as their function and aesthetics in color and shape.
Contact us – your dentist Berlin from CASA DENTALIS will advise you at any of our locations in Lichterfelde, Wilmersdorf and Steglitz-Zehlendorf gladly to provide you with the dental prosthesis that meets your personal wishes and requirements. We strive to find the right solution for you, so that you too can soon smile and live carefree again.
Several treatment steps are necessary for the fabrication of a full denture. First, your dentist makes an impression of your jaw, with the help of which a customized impression tray is made. In the second step, this is used to make an individual functional impression of your jaw, your lip and tongue frenulum, and to determine the relation between your jaws. This information is now used to set up a full denture in the dental laboratory, which is tried on and checked for esthetics and function in the next treatment step. If you and your dentist are satisfied, the full denture is completed in the dental laboratory and placed in the final appointment. After a short settling-in period, your dentist will make one more check-up appointment to perfect your full denture.
When wearing your denture for the first time, it is quite possible that your speech will be limited. Many patients also feel that the denture is too large.  However, this is quite normal and no cause for concern. Your lips, tongue and muscles usually need up to 30 days to get used to your denture. If speaking causes you great difficulty at the beginning, our dentists Berlin from CASA DENTALIS recommend 
easy speech exercises
. Simply read aloud. If you find that certain words cause you greater difficulty, repeat them as often as possible. Irritation in the oral cavity, as well as a gag reflex during insertion, can also be a normal reaction of your body to this "foreign body". These will normalize within the first few weeks. You will become more accustomed to your new teeth with each passing day. However, if your discomfort persists after the first few weeks, please contact your dentist in Berlin at CASA DENTALIS. The denture may need to be adjusted by your dentist Berlin. Contact us – we will be happy to help you at any time, because your health and satisfaction are our top priority.
Combined dentures from CASA DENTALIS are dentures that have a fixed part as well as a removable part, such as implants (linking) and some dentures.
What is a telescopic prosthesis?
The telescopic prosthesis is a 
very high quality dentures
, because it is visually inconspicuous and can be easily taken in and out. The fixed part of the prosthesis consists of so-called telescopic crowns. These consist of a primary crown (inner telescope) made of metal on the prepared tooth and a second removable crown (outer telescope). The denture is incorporated into the second crown by your dentist. This means that it can be removed at any time.
What is an attachment prosthesis? In the case of attachment dentures, our dentists attach the crowns to the teeth adjacent to the gap. In addition, an attachment is attached to both the crown of the tooth and the denture. When the denture is placed, the two parts of the attachment are pushed firmly into each other.
What is a bar prosthesis? The bar denture most frequently replaces the four lower incisors. For this purpose, our dental prosthesis experts fit the canines with crowns and connect them with a fixed bar onto which the prosthesis can snap when inserted.
Arrange your free consultation with us already now