Your Dentist in Berlin Westend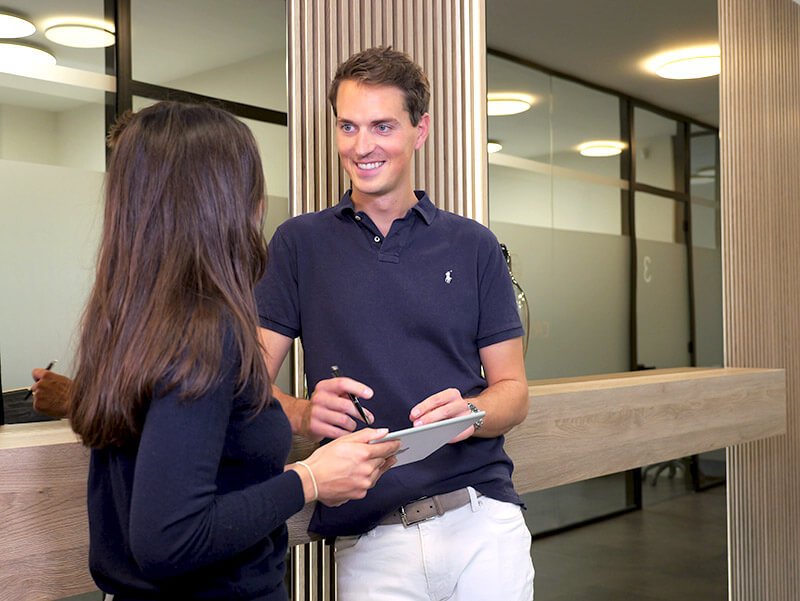 Aesthetic dentistry for a radiantly beautiful smile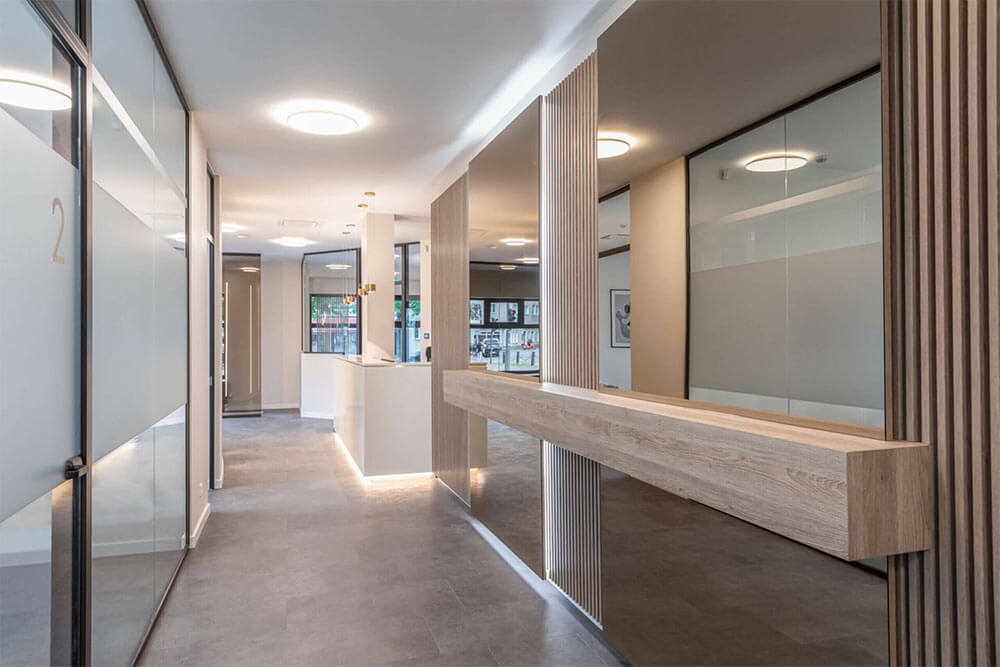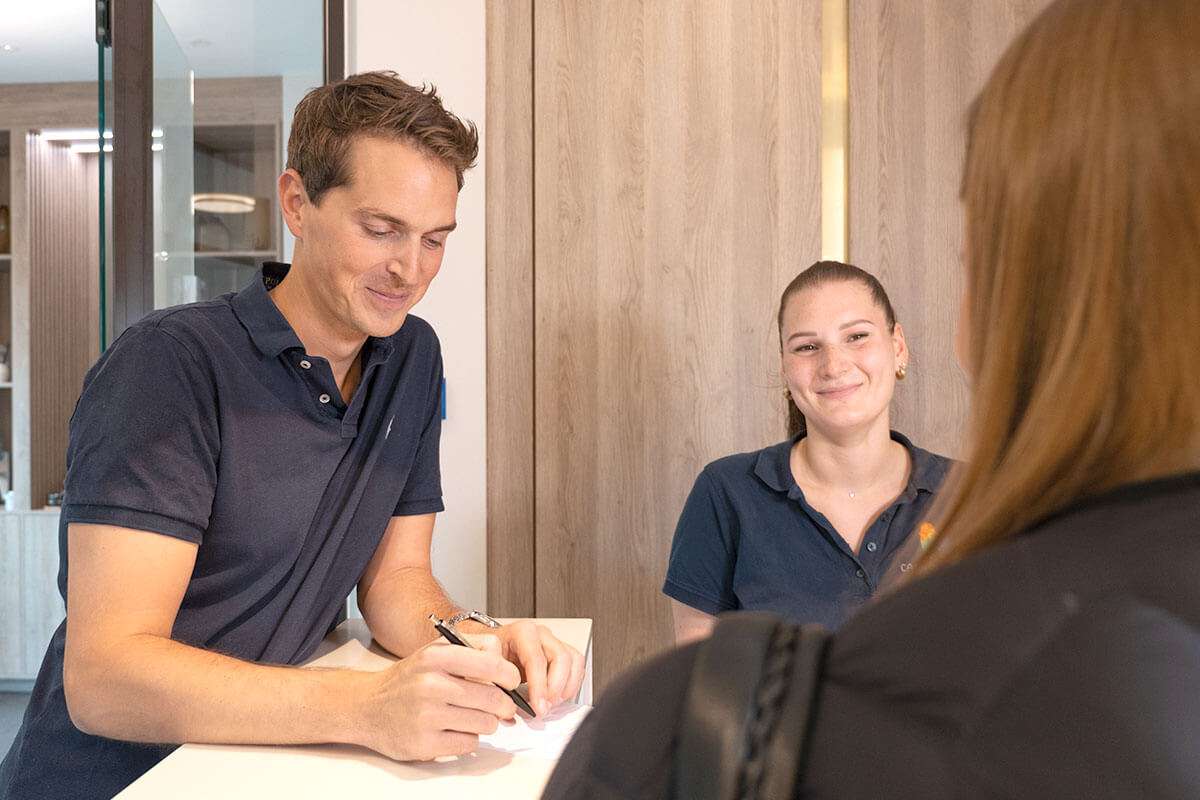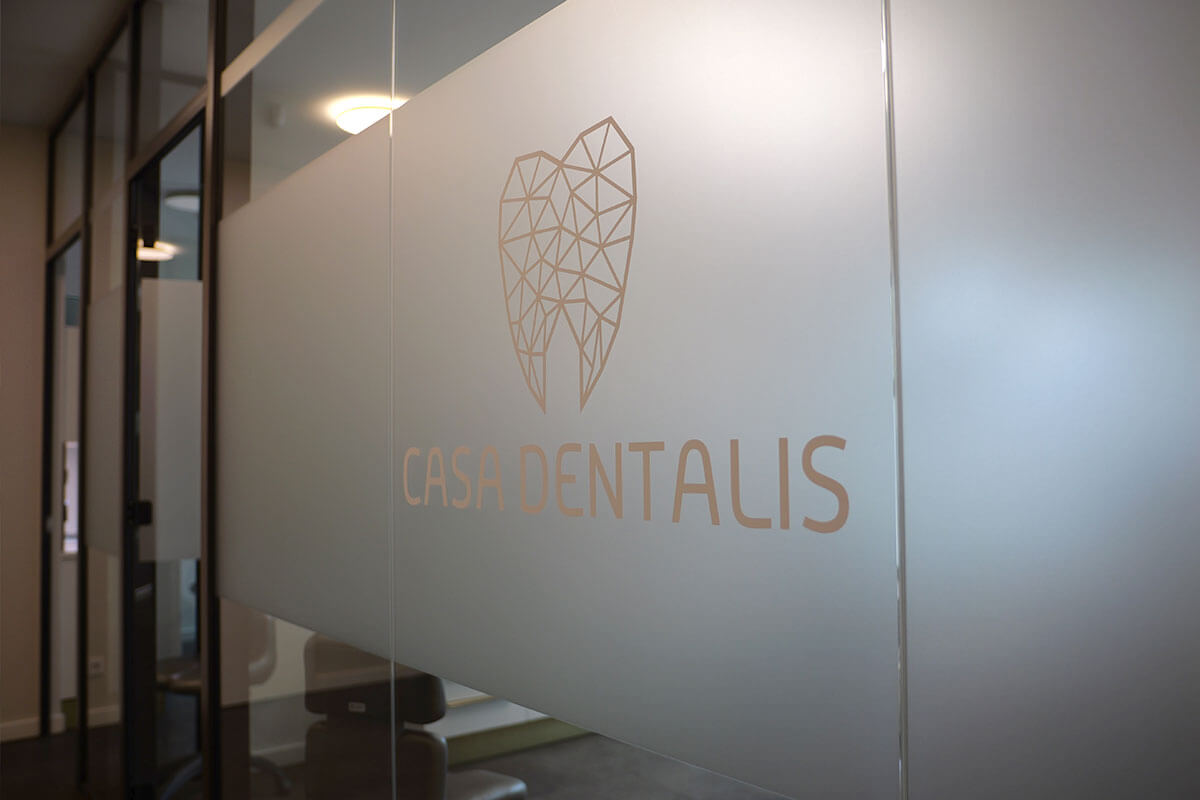 We take care of small blemishes and large cavities so you can quickly laugh again without worries. Expect gentle treatments with digital dentistry for the aesthetics and protection of your teeth.
Beautiful teeth are always healthy teeth. They are important for self-confidence, well-being and general health. Our ultimate goal as a dentist in Berlin Westend is to give you both: Aesthetics and health of your teeth. To this end, we provide you with dental restorations ranging from single crowns and bridges to veneers to correct minor blemishes. With modern endodontics and root canal treatments under the microscope or oral surgery, you also receive an advanced range of services for tooth preservation here. In all areas of our broad treatment spectrum, we can offer you state-of-the-art dental medicine – for example, an intraoral scanner.
This allows us to shorten many treatments considerably and at the same time make them gentler and more gentle – ideal also for patients with anxiety. Experience the difference!

Aesthetic dentistry, endodontics and oral surgery
Modern root canal treatments with the dental microscope and more to heal and save diseased teeth
Professional bleaching by the dentist at CASA DENTALIS Westend and at home – for long-lasting beautiful teeth in radiant white

This is what our patients think of us:
Very nice dentists and staff. For all those who are afraid, this practice is perfect, it is addressed to one in peace and everything is explained extensively.
Last year, I desperately needed beautiful dentures with a dental crown. Unfortunately, the tooth could not be saved any other way. I was given detailed advice here about what could be done and which dentures were aesthetically pleasing. So I decided on ceramic dentures. Dentist Daniel Richter planned the dental crown with his scanner, without taking an impression, and it was ready shortly afterwards from the dental laboratory. A great service and a fast treatment.
For a long time, I wanted to treat myself to professional bleaching by a dentist. I was quite disappointed with all the other whitening products you can buy, and a friend of mine finally recommended whitening at CASA DENTALIS in the West End. They advised me in detail and in the end, with the bleaching there and additional home bleaching, I had the really white teeth I wanted in no time.
One example of our digital practice equipment is the intraoral scanner. It enables a complete digital workflow in CASA DENTALIS and between the dental practice and dental laboratory. This considerably shortens the waiting time for your aesthetic dental prosthesis. At the same time, it allows us to model your denture even more precisely and even completely eliminates the impression taking with the impression tray, which is unpleasant for many patients.
Intraoral scanners are small digital handheld devices that can create a complete 3D image of the oral cavity in a few seconds using light without contact. They capture millions of points that produce an exact image of teeth, gums and other anatomical structures. This facilitates, improves and shortens, among other things, diagnostics, treatment planning or the provision of dentures – the intraoral scanner also regularly saves our patients the unpleasant impression tray.
Small misalignments, gaps between teeth or some tooth discolourations can be concealed in an aesthetically convincing way with various veneers. Equally convincing is the long durability of these wafer-thin, predominantly ceramic veneers – ten years and often a few more are the rule here.
The bleaching itself does not hurt. Afterwards, however, the teeth may become hypersensitive to cold or heat for one or two days – especially when eating or drinking. This reaction is quite normal because the teeth are now remineralising briefly. Of course, we are also there for you then and can help you quickly with a soothing fluoride gel, for example.
Dr. med. dent. Cosima Herbst
Make an appointment online
To contact us and get completely free advice, you are welcome to fill out the form.
At the CASA DENTALIS dental practice in Berlin Westend you will find state-of-the-art aesthetic dental treatments, provision of aesthetic dentures, endodontics or oral surgery at the highest level.