Welcome to CASA DENTALIS for Kids.
CASA DENTALIS KIDS – dentistry in the sense of responsible treatment suitable for children. Children are not just little adults, but want to be addressed and treated completely differently.
The dental treatment of the little ones begins at Drakestraße 23a already on the big pirate ship. Sabers and daggers invite to romp, the TV shows the favorite program and parents just read a short story. Relaxed in this way, the basis for a anxiety free and successful relationship between your child, you and the dentist. The child's masticatory apparatus can thus be optimally examined.
With open-minded children, the probability of healthy and long remaining milk teeth is very high. At Drakestraße 23a, our dental team will do everything to ensure that healthy teeth are present and, above all, that they are preserved. If there are already larger defects, such as.
strong caries
 or even only the remains of deciduous tooth stumps, are present on the teeth, the treatment under anesthesia or 
Laughing gas sedation
 possible. In this case, external anesthesiologists accompany the procedure in our office.
Pleasant & stress-free treatment
for your children
At CASA DENTALIS KIDS, your child will meet dentists who specialize in treating children. The team is very happy to show under your parental guidance, among other things, 
How correct brushing teeth explicitly works
. In this way, you and we can achieve a common goal for the children: the offspring build up a relationship of trust, enjoy coming to the dentist and have well-groomed teeth. Fun and necessity can thus be brought into harmony. We look forward to meeting you and your offspring!
Ihr CASA DENTALIS Team
For the area of children's dentistry, a separate dental practice has been set up at CASA DENTALIS Lichterfelde, where we are happy to welcome you and your offspring at any time – CASA DENTALIS KIDS!
Here we are dedicated to providing all-round dental care for all CASA DENTALIS children with a variety of different treatment options: starting with children's prophylaxis, through fillings and crowns, to space maintainers and children's dentures.
Questions & Answers to the
Pediatric Dentistry
But you at home also need to take care of this together with your child, 
keep the teeth clean
. Already from the eruption of the first milk tooth, our pediatric dentists at CASA DENTALIS KIDS recommend to start cleaning the teeth. Until the child has developed the necessary fine motor skills, parents should take on this task. It is important that children associate brushing their teeth with positive events from the very beginning, rather than viewing it as a chore. You can make a significant contribution to this by making brushing interesting and fun, e.g. through
colorful toothbrush and -paste
joint teeth brushing
Games: who can clean more thoroughly? (Control by dye tablets)
Tooth brushing rhymes or songs
When cleaning teeth at home, it is important to choose a toothbrush and toothpaste suitable for children, as well as dental floss. The right methodology is also crucial. To help your child learn what a thorough dental cleaning looks like, you are welcome to make an appointment at CASA DENTALIS KIDS in Lichterfelde. Our pediatric dentists Berlin will advise you here in detail about this topic. We have also summarized for you what to look out for with children's teeth and their care under "Tips and tricks".
Preventive care and nutrition school at CASA DENTALIS KIDS
Not only with the help of regular cleaning of the teeth at home and CASA DENTALIS KIDS children's prophylaxis, but also with the proper nutrition caries can be prevented. Your pediatric dentist Berlin at CASA DENTALIS KIDS will be happy to advise you on this.
In practical terms, this means avoiding or consuming only a small amount of sugar, which causes tooth decay, and acids, which weaken tooth enamel. However, in addition to obviously harmful foods such as sweets, juices, ketchup and cola, (fruit) sugars and acids are also found in fruit, so care must be taken to consume an appropriate amount here as well. It is also important to handle the teeth properly after consuming the harmful substances. For example, your child should not brush his or her teeth immediately after consuming acids/sugar, as the already damaged tooth enamel can then be damaged by brushing.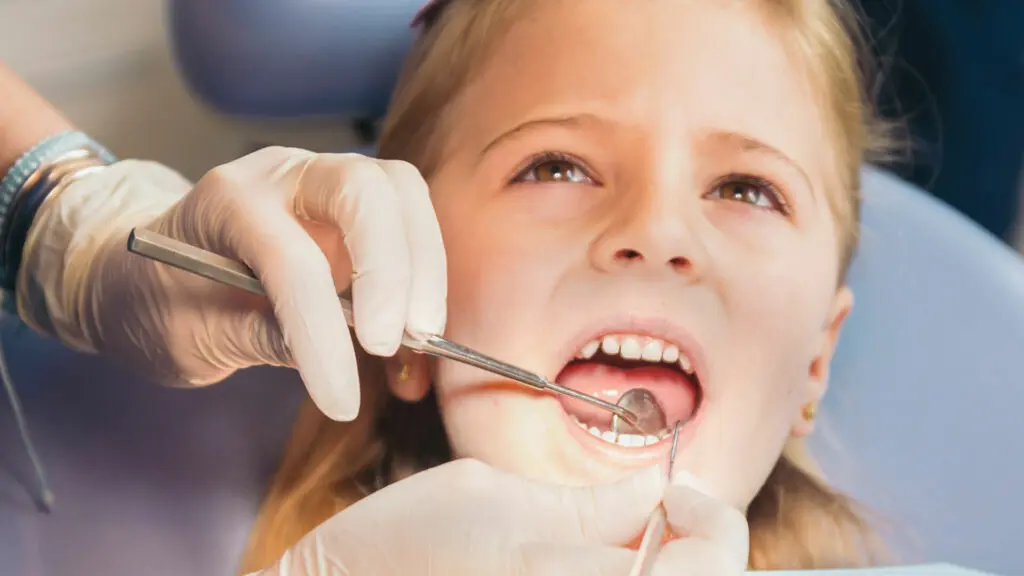 Our dentists Berlin from CASA DENTALIS KIDS, recommend waiting 20-30 minutes and rinse the mouth with water. However, teeth can also be positively influenced by nutrition, e.g. products with a high vitamin and mineral content such as vegetables and wholemeal bread. Do you have further questions about nutrition or care? Feel free to contact us at CASA DENTALIS KIDS at Drakestraße 23a, in Berlin Lichterfelde. Your dentist Berlin for pediatric dentistry will be happy to take care of you and answer your questions. Make your appointment now for pediatric dentistry in Berlin
Dental care at CASA DENTALIS KIDS
My child has a hole in a tooth?
What now?
If a hole has appeared in your child's tooth, it should be treated as quickly as possible. Depending on the size of the defect, different treatment options are available at CASA DENTALIS KIDS.
Children's dental fillings at CASA DENTALIS KIDS
Fillings serve to restore a tooth after previous caries and thus to preserve the tooth. Small defects are treated with fillings at CASA DENTALIS KIDS. Our dentists at CASA DENTALIS KIDS use only composite, plastic-reinforced materials for this purpose. CASA DENTALIS KIDS does not use amalgam fillings at all.
Deciduous teeth - one of the most important topics in pediatric dentistry.
What are milk teeth? Like many other mammals the human being forms a milk dentition, which is replaced by the permanent dentition in late childhood/early adolescence. The milk teeth erupt at the age of 6 months to 2.5 years and fall out again at the age of 6 – 14 years.
Recommendations for milk tooth care from CASA DENTALIS KIDS For this reason, the care of milk teeth must be started in time. Already after the eruption of the first milk tooth (approx. from the age of 6 months), the pediatric dental team at CASA DENTALIS KIDS recommends cleaning twice a day with a children's toothbrush and paste as well as dental floss. Why milk tooth care is important Milk teeth are often not cared for too intensively because they will fall out anyway. However, our dentists at CASA DENTALIS say: this is wrong! The importance of milk teeth should not be underestimated, because caries is not only associated with dental defects, but also with weight loss, sleep disorders, increased susceptibility to infections and even developmental disorders (speech). In addition, as "placeholders" for the permanent teeth, they prevent malocclusions in the permanent dentition. Finally, caries bacteria can attack and infect the permanent teeth from a deciduous tooth.
The first visit to the dentist
The first visit to the dentist can shape a lifetime. That is why at CASA DENTALIS KIDS, your dentist Berlin, we place special emphasis on making it as pleasant and stress-free as possible in order to create positive associations. Thanks to the special training of the staff at CASA DENTALIS KIDS, we are also familiar with the psychological needs of our youngest patients and therefore know exactly how to deal with them so that they enjoy visiting the dentist as adults. Children find themselves in a relaxed, cheerful atmosphere with a child-friendly waiting room and practice design. In addition, at CASA DENTALIS KIDS we strive to keep waiting times to a minimum so that nervousness does not even begin to set in. During the appointment, the pediatric dentists Berlin at CASA DENTALIS KIDS always take their time and establish a trusting relationship with each of their little patients. With us, children are allowed to inspect and have all instruments explained to them and are actively involved in the treatment. Of course, as a parent or accompanying person at CASA DENTALIS KIDS you are always allowed into the treatment room, but your child should only come for treatment if accompanied by a single person.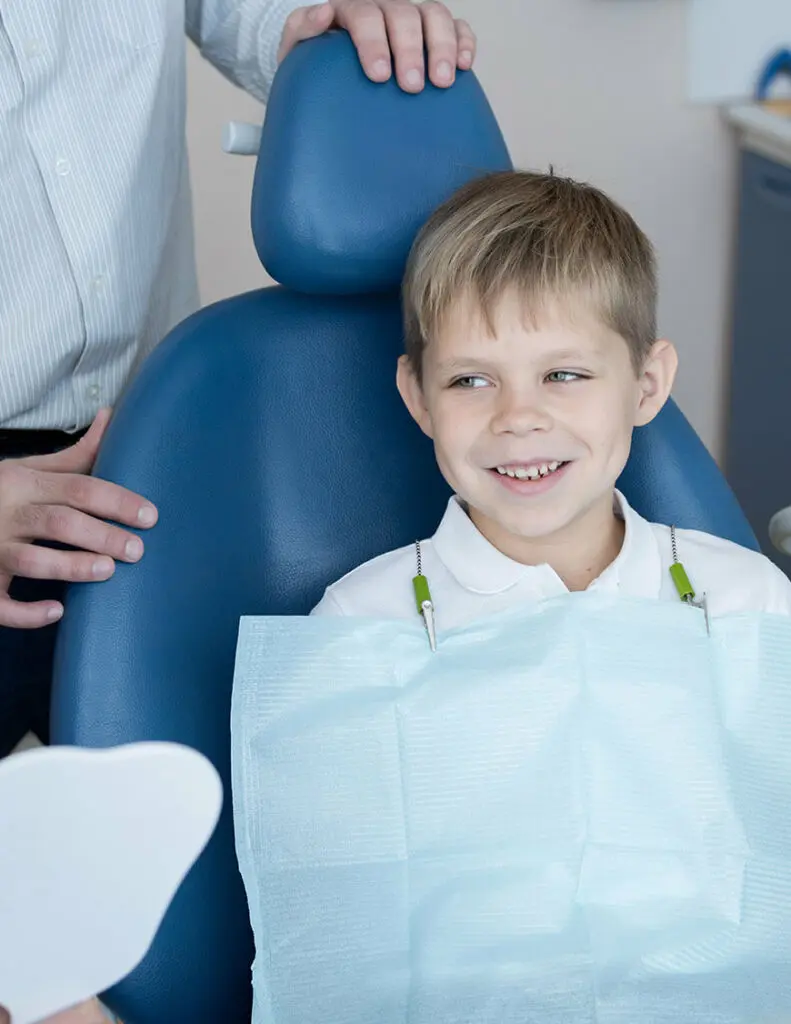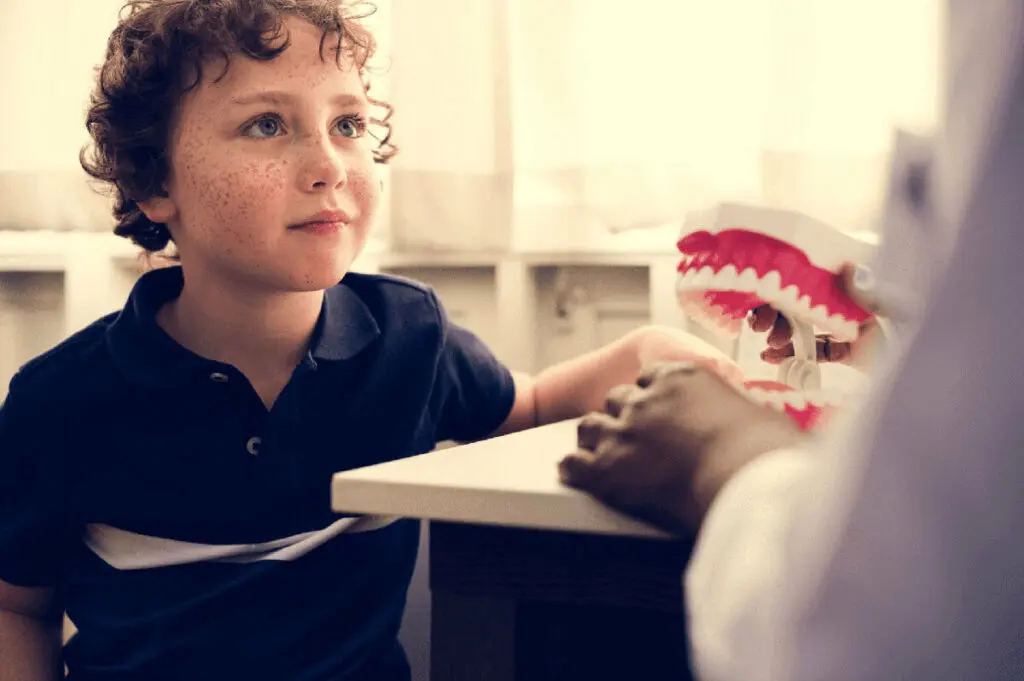 During diagnostics we are careful not to scare the child and at the same time get accurate results. Diagnostics begins with recording your child's brushing habits. This allows us to accurately assess whether oral hygiene is sufficient or still needs to be optimized to prevent caries development. In addition, we record a dietary protocol in order to identify caries-promoting foods and beverages and thus additionally counteract the development of cavities. This is followed by an inspection of your child's oral cavity and teeth. The child is gently introduced to the mouth mirror and the dental probe and everything is examined in detail. If there is any indication of caries, it is necessary to take an X-ray in order to estimate the extent of the caries and thus select the right therapy. We use the digital X-ray method, which is characterized by a low radiation dose and high image quality.
Pediatric dentistry: anesthesia
When does CASA DENTALIS KIDS use a
sedation or narcosis?
General anesthesia? In the case of small or very anxious children and children with a high need for therapy, treatment at CASA DENTALIS KIDS can take place under general anesthesia so as not to cause any negative experiences due to dental measures. However, we do not make this decision lightly in our pediatric dental practice Berlin, but after extensive consideration by our experienced pediatric dentists and consultation with you as parents. Once we have jointly decided on this course of treatment, your child will be presented to our anesthesiologist for a health assessment and preparation for the anesthesia. On the day of the general anesthesia at CASA DENTALIS KIDS, you will accompany your child until he or she falls asleep and may then be by his or her side again during the awakening phase. During the treatment you will wait in the waiting area.
If you still have questions about pediatric dentistry and pediatric dentistry, you can always call us, your dentist Berlin, for a personal consultation in our dental practice CASA DENTALIS KIDS in Lichterfelde to agree.
We are looking forward to your visit
Your dentist Berlin