Many patients feel queasy at the thought of an upcoming visit to the dentist: anxiety patients. A slight fear and discomfort of the dentist is widespread and we too can well understand your concerns. Fear is a natural protective mechanism designed to protect us from physical and mental harm.
However, in about 25% of all adults suffer from a panic Dental anxiety. This heightened feeling of anxiety significantly restricts those affected in many life situations. Also the Dental fear is widespread. Also among our brave patients at CASA DENTALIS. Affected are anxiety patients from all population groups and of all ages.
Anxiety patients often fear the loss of control and the feeling of being at the dentist's mercy. They often avoid going to the dentist until costly and lengthy treatments become unavoidable and then a lot of stress and Cause pain.
Signs associated with dental anxiety are many.
Possible Anxiety symptoms can be:
Sweat attacks
Palpitations
Nausea
Shortness of breath
Trembling
Emetic
The feeling of shame to tell the doctor because of poor oral hygiene to show their teeth usually only aggravates the situation. In order to prevent such stress from occurring in the first place, we offer anxiety patients at CASA DENTALIS treatment under general anesthesia or laughing gas sedation upon request.
7 tips to overcome your fear of the dentist or treatment
As difficult as it may seem, going to the dentist is necessary and important and in some cases can no longer be avoided. To make your visit to our dental practice a little easier, we have put together some tips for anxiety patients on how you can best prepare for your dental appointment as an anxiety patient in Berlin.
How can we help anxiety patients in the dental offices of CASA DENTALIS in Berlin?
If you have recognized yourself in the characteristics of an anxiety patient, you can now breathe a sigh of relief. Thanks to our many years of experience, we at CASA DENTALIS are very familiar with this problem. The most important thing for us is optimal preparation and care for our patients. We accompany you in all our dental practices in Lichterfelde, Wilmersdorf and Steglitz-Zehlendorf, as well as in the CASA DENTALIS DENTAL CLINIC from the first meeting, through the diagnosis to the actual treatment by our dentists Berlin.
Our anesthesiologist examines you for possible contraindications and professionally informs you before the procedure about possible side effects and your behavior before and after the anesthesia. This takes away the nervousness as well as the fear of most anxious patients and enables a painless and stress-free treatment at your dentist, CASA DENTALIS.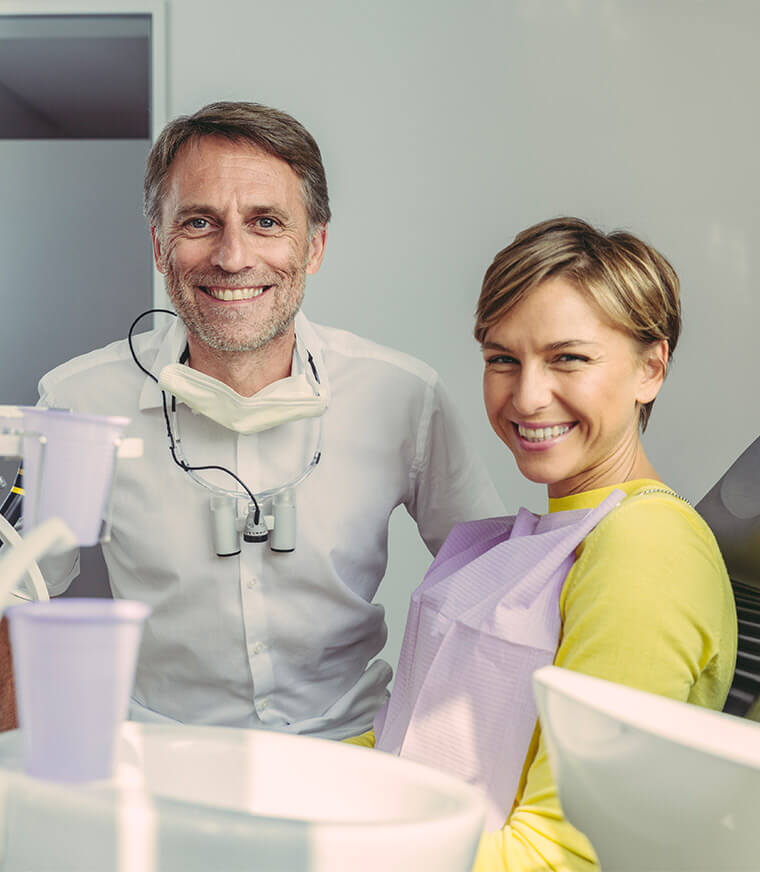 Your dentists at CASA DENTALIS in Berlin are there for you!
In the CASA DENTALIS dental practice, we take sufficient time for all our anxiety patients and respond to your wishes and needs. We will be happy to explain the individual instruments and treatment steps to you in detail. Arrange an anxiety patient today Termin for your individual consultation with your dentist in one of our practices in Lichterfelde, Wilmersdorf und Steglitz-Zehlendorf. Your team at CASA DENTALIS, your dentists in Berlin, is looking forward to seeing you!