We are experts for dental implants in Berlin
Professional implantology for a new smile
As a family business of experienced dentists and certified implantologists, we provide you with compassionate and individualized care.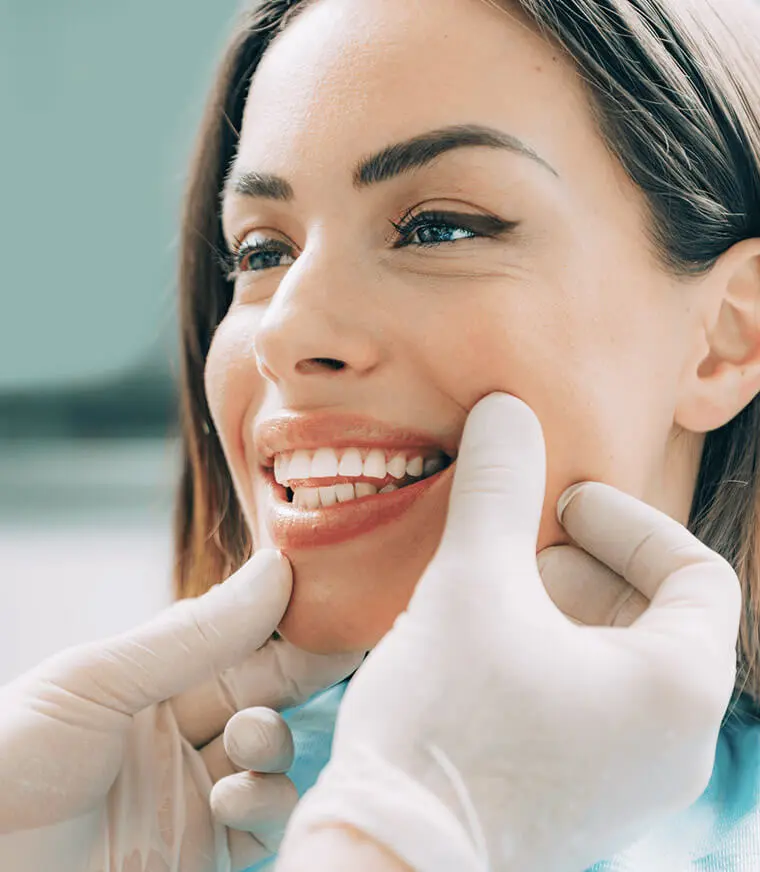 Professional implantology for a new smile
As a family business of experienced dentists and certified implantologists, we provide you with compassionate and individualized care.
As a family business of experienced dentists and certified implantologists, we provide you with compassionate and individualized care.
With over 10,000 implants already in place, we offer you the best possible treatment methods according to the latest dental standards: our implantologists regularly attend advanced training courses and are therefore always at the most up-to-date and highest level of training and certification.
We place the highest value on your quality of life. Therefore, not only the successful insertion of the implant, but also a low-pain treatment as well as good healing is important to us.
Trust in a recommendation rate of 99% and the overwhelming success of our implant treatments.

This is what our patients think of us:
Maren Kunze
Dental Implant
It has been a long time since I received my implant at CASA DENTALIS. During the detailed consultation before, the dentist had already told me: These implants last for decades. The first decade is already over with me and the implants are still bombproof. This investment was worthwhile and thanks to general anesthesia, I did not even notice anything about the implantation.
I received two implants from Mr. Dankmeyer. There were no problems or pain, which had worried me a bit before. But even the detailed conversation and the consultation before the treatment appointment calmed me down a lot. Afterwards I was even driven home! Many thanks to the whole practice team! I am really very satisfied.
Mohamed Chehimi
Ceramic Implant
In the dental clinic CASA DENTALIS in Lichterfelde I had an implant inserted. It was important to me that I could choose a metal-free ceramic implant instead of a titanium implant. For this and the whole treatment I was super advised. The result is impressive and I am completely satisfied. Price and performance are right here. Absolutely recommendable!
Why getting a dental implant
at CASA DENTALIS?
Dental implants give you back a carefree, self-confident smile after tooth loss as with real teeth. At CASA DENTALIS you will receive either modern, high-quality titanium implants or metal-free ceramic implants.
Together with ceramic dentures, no other dental materials or treatment solutions come as close to natural teeth as these implant therapies. In addition, with good care and regular prophylaxis, implants often last a lifetime, so that you will have firm teeth into old age.
For this reason, the investment in dental implants is worthwhile, quite apart from the fact that we offer you a very good price-performance ratio at CASA DENTALIS. Our dental surgeons all have a lot of experience in implant treatment, over 10,000 successful implantations in CASA DENTALIS underline this.
On request, we also perform dental implantations under general anesthesia in the company of equally experienced anesthesiologists. With all anesthesia, we are also there for you afterwards and even drive you back home.
Our dental surgeons and will be happy to inform you extensively in a personal conversation. For questions, consultation appointments and further information, you can reach our team at any time – every 365 days of the year.
How much does a dental implant cost?
The costs for a dental implant consist of the dentist's fee, the material costs (implant and its components) and the costs for the services of the dental laboratory. A second implant is slightly cheaper, as the basic costs in this case are calculated only once.
How painful is a dental implant?
The implantation takes place on an outpatient basis under local anesthesia, so that no pain is to be expected during the treatment. Due to the particularly gentle and painless insertion of the implant, the healing after the treatment is usually problematic and is also painless.
How does the implantation work?
First, the tooth to be replaced is removed. Once a stable implant bed has formed – usually within 8-12 weeks of removal of the tooth, sometimes earlier – implantation is performed. The implant design is perfectly matched to the conditions prevailing in the mouth and used under local anesthesia. On request, the procedure can also be performed under general anesthesia.
How does the implantation work?
We attach great importance to long-term success: the healing phase in the lower jaw can therefore take up to three months and up to six months in the upper jaw.
After that, you can be sure that the implants will remain permanently in the jawbone and deliver their full functionality as a full denture.
The CASA DENTALIS Lichterfelde practice is located in the southwest of Berlin near the Botanical Garden and Freie Universität in the beautiful district of Lichterfelde.
The good transport connections of our dental practice ensure easy accessibility. From the S-Bahn station Berlin-Lichterfelde-West (line S1) you can reach us within nine minutes on foot. With the bus (lines 188, M11, N88), which stops directly in front of our practice at the stop Drakestraße/ Ringstraße, you are even faster at your destination. In addition, the bus line M11 goes to the S-Bahn station Berlin-Lichterfelde-West. Also with the S-Bahn (line S1) or the bus (line 188) you can reach our dental practice CASA DENTALIS in just eleven minutes from the train station Berlin Rathaus Steglitz. From Berlin-Lichterfelde-Ost, the best way to get to us is by bus (line M11) in ten minutes.

We look forward to seeing you!
Arrange a free consultation appointment
To contact us and get advice completely free of charge, you are welcome to fill out the form.
Two brothers run the dental practice together and are run by their children, also qualified dentists.
Sometimes inlays, crowns or bridges are no longer sufficient as dentures. Then dental implants are an ideal variant to close tooth gaps.
An implant restores its full functionality to your damaged dentition. The masticatory apparatus remains permanently resilient through the use of high-quality dental implants.
Let us advise you free of charge on dental implants now.